Welcome to today's edition of ShentonSTAGE Daily. This daily theatre newsletter is e-mailed to subscribers every weekday, usually before 10am. It then appears on line here.
To subscribe to receive it in your e-mail inbox, please send an e-mail to:
ShentonStageMailingList@gmail.com
I hope everyone had a great bank holiday weekend. Here's an advance warning that there will be a hiatus in this newsletter after Wednesday, up to and including Sunday September 19. It will resume publication on Monday September 20. This is owing the fact that I'll be on holiday in Barbados…. the first time we've been out of the country for nearly two years.
LONG WEEKEND COLUMNS
My weekly THAT WAS THE WEEK THAT WAS column of my week in columns, reviews and tweets of theatre in London & beyond, including the controversy over Cameron Mackintosh's declaration that casting trans actors is a "gimmick", though it is definitely #NotAGimmick.
TO READ IN FULL, CLICK HERE: https://shentonstage.com/that-was-the-week-that-was-august-22-28/
My updated list of returning shows and newly announced productions in the West End and beyond to selected fringe and regional theatres, plus Broadway, is here, including the next 3 weeks of press nights. (Next update will be September 20).

TO READ IN FULL, CLICK HERE: https://shentonstage.com/august-30-update-latest-scheduled-new-returning-shows/

THIS WEEK'S OPENINGS
Thursday September 2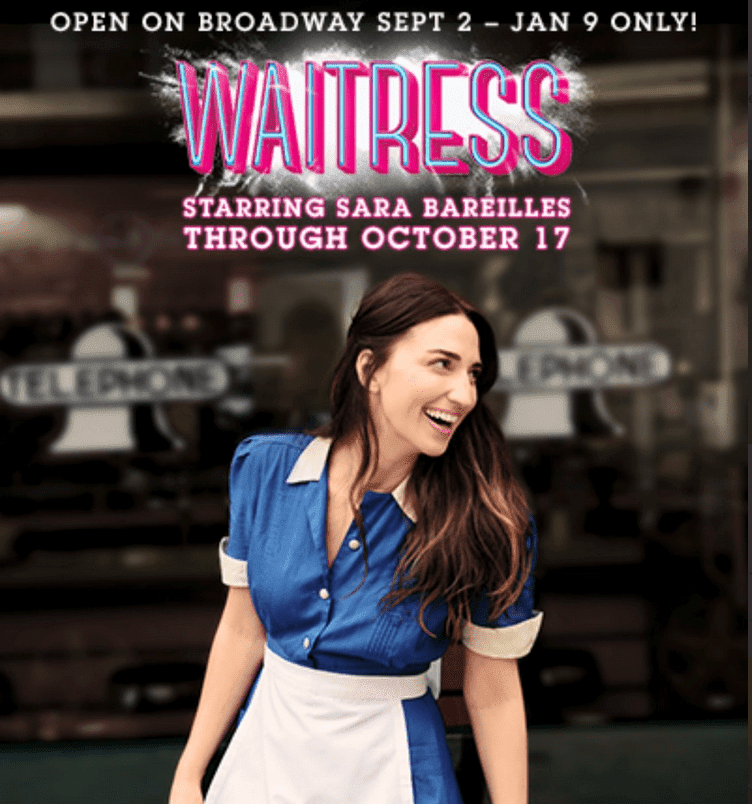 BROADWAY: Waitress (Ethel Barrymore Theatre) The Broadway musical version of Adrienne Shelly's 2007 film, scored by singer-songwriter Sara Bereilles with a book by Jessie Nelson, returns to Broadway after closing on schedule just ahead of the pandemic's arrival, with Bareilles herself initially returning in the lead role of Jenna that she has previously played both on Broadway and reprised in the West End, for performances from September 2-October 17. Press contact: Adrian Bryan-Brown/Jackie Green at Boneau/Bryan-Brown. https://waitressthemusical.com
BEDKNOBS AND BROOMSTICKS TOUR OPENS
A new touring stage version of the 1971 Disney film Bedknobs and Broomsticks held a national press night last Friday at Canterbury's Marlowe Theatre, after previewing beforehand at Newcastle Theatre Royal. The tour is currently booking to May 2022 (full dates are here).
REVIEWS
The Times (4*, by Dominic Maxwell): "It's a big season for musicals taken from films, with Back to the Future and Frozen also opening in the West End. If either of them match the vim and theatricality of this spectacular based on the 1971 Disney film, the year is looking up. What you fear, at a show like this, is the original, but less so. What its British directors, Candice Edmunds and Jamie Harrison, do is give us a theatre show that looks thrilled to be a theatre show. … Crucially, (Dianne) Pilkington [pictured below] is outstanding: she makes a highly technical role look effortless, sings beautifully and lends Price strength and tenderness, to. A B-list Disney film, perhaps, but an A-list adaptation."
Daily Telegraph (4*, by Domminic Cavendish): "You wait Covid-protracted ages for a dash of Disney stage-magic and all at once you get a meteor-shower's worth. Mary Poppins is back in the West End. Incoming at Drury Lane is Frozen. And out on the road, in what must be the most sumptuous-looking touring show of the year, Bedknobs and Broomsticks brings to life a film that has delighted many since its 1971 premiere but has never had its moment of definitive creative realisation…
There's a welter of wonder-inducing visual trickery…."
Daily Mail (3*, by Patrick Marmion): "Truth be told, it's a little too dependent on magic. A mash-up of Mary Poppins and The Wizard Of Oz, with touches of Narnia, Candice Edmunds's lively production tries to plump up the slightly flimsy plot with a constant procession of props – including clouds and trees above and below the flying bed. Director of illusions Jamie Harrison conjures up a genuinely impressive display of tricks. I couldn't for the life of me see how the broomstick danced with no strings attached. Nor could my beady-eyed daughter figure out how they launched the glowing bed. And there's a blizzard of airborne uniforms, flags and swords for the climactic battle.But while they've totally cracked the magic, me and my child consultant daughter (11) were a little underwhelmed by the Sherman brothers' songs…. Judged best for under-11s by my daughter, it's still a likeable show that will leave you with a warm glow."
The Guardian (2*, by Chris Wiegand): "Devotees of the film, adapted from Mary Norton's books, may well be wondering: what are the new songs like, how does Dianne Pilkington fare as Price (indelibly portrayed by Angela Lansbury) and what about Cosmic Creepers, one of cinema's rattiest cats? Taken in order: the songs catch the brisk jollity of the Sherman brothers' originals but lack the instantly hummable quality; Pilkington, dressed smartly by designer Gabriella Slade, brings brusque wit as her distaste for the children dissolves into affection; regrettably, her cranky feline companion is referenced only by an oil painting… Bedknobs and Broomsticks seems a touch cumbersome but it may yet begin to bob along as it proceeds on tour." 

TODAY'S THEATRE BIRTHDAYS
SEE YOU TOMORROW...See you in your inbox or here online tomorrow morning. But if you can't wait that long, you can find me on Twitter (though not as often on weekends as on weekdays):  Twitter.com/ShentonStage